ECITB Project controls training and qualifications
Training in ECITB Project Controls equips project controllers with the skills to estimate and deliver industry projects on time and within budget.
There is a growing demand for project controllers and professionals across the public and private sector to work on complex projects from the very start to the end such as HS2, Hinkley Point C, Dreadnought and Thames Tideway.
The broad purpose of project control is to ensure that multi-faceted engineering and infrastructure projects deliver successfully and safely to time, cost and quality. Typically, the PCP works on a range of projects which may include projects with multi-million pound budgets, spanning over several years, across multi-locations, with inter-disciplinary teams.
Related technical disciplines include cost engineering, estimating, scheduling and planning.
Approved ECITB training providers that are currently licensed to deliver ECITB training courses are: 20/20 Business Insight, Go Forth, iCost, Kingsfield Academy, PM Excellence and Project Control Solutions.
ECITB project control qualifications and courses
The ECITB works closely with industry and employers to develop training courses and qualifications for project controls, estimating, planning, scheduling, cost control, risk and commercial awareness.
The aim of ECITB training products is to provide a clear  career entry and progression path from technician to professional project controller, estimator, planner, scheduler or cost engineer.
Specific project controls training courses and qualifications include: training courses, ECITB qualifications and Apprenticeship standards
0-5 Years
5-10 Years
10 Years +

From trainee or graduate to:
project controller
estimator
planner/scheduler
cost engineer

Project control manager
Estimating lead
Planning or scheduling lead
Cost engineering lead

Head of project controls
Chartered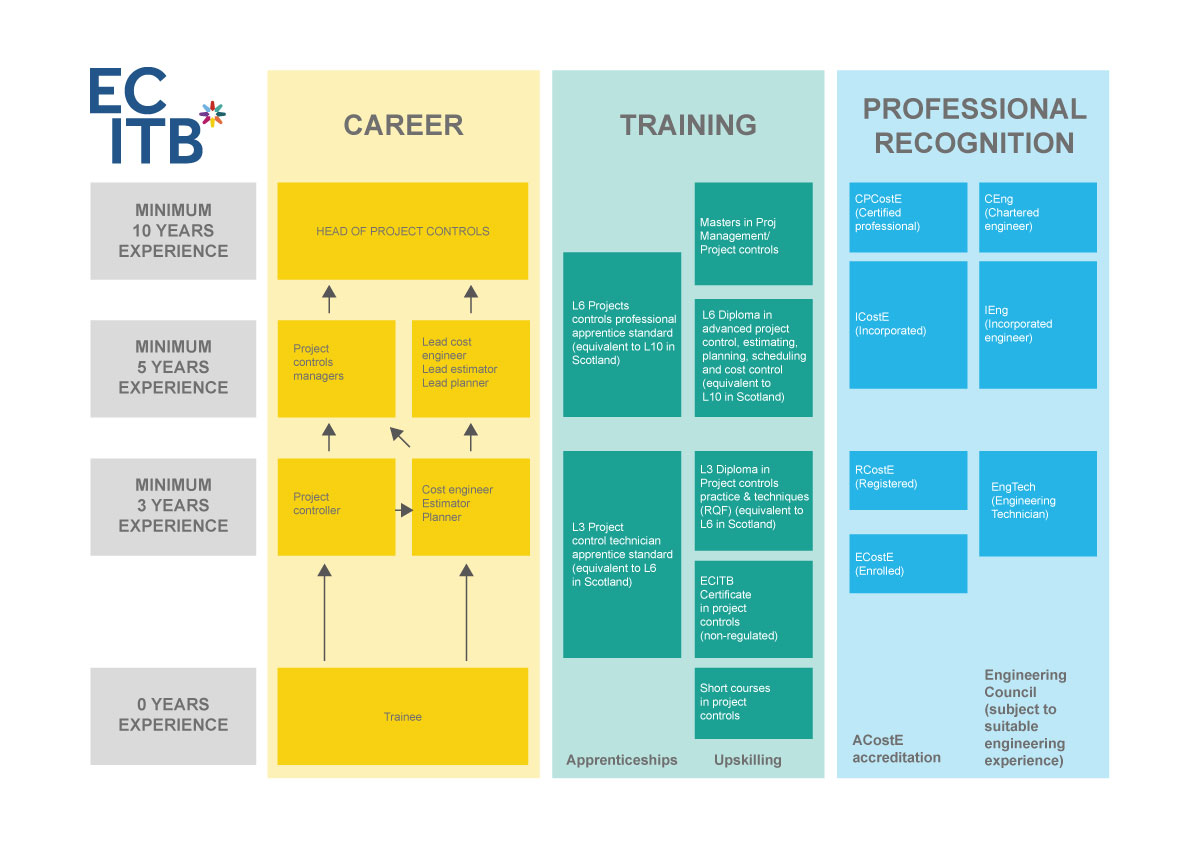 This is training that is appropriate for: trainees, graduates, project controllers, estimators, planners/schedulers and cost engineers. All training is available through ECITB approved training providers via virtual or face-to-face or blended delivery options.
There are several short courses, longer courses and qualifications and these are summarised in the tables below.
ECITB short courses*
ECITB
Short course summary
ECITB
Short course summary
Introduction to project control (3 days)

Ideal for those looking for insight into the fundamentals of project control including estimating, planning, scheduling, cost engineering, risk, information management and communication.

Estimating methodology & practice (3 days)

Comprehensive training on estimating techniques, including theory and putting the methods into practice with practical exercises throughout.

Managing risk as part of a project (1 day)

An introduction to risk terminology, the risk management process, the practical implementation of a risk management plan, and the tools and techniques used in good practice risk management.

Project document managers (2 days)

The principles of project document management: ensuring transferability across a company and the supply chain; understanding requirements; setting up processes; and leading the document management function.
ECITB approved training provider short courses**
Several ECITB approved training providers have licences to develop bespoke training courses that meet industry-agreed training standards. There are ECITB training standards for a range of skills across the project control disciplines (click here for the list). These courses are approved by the ECITB as meeting the needs of engineering construction companies, courses available are (this is updated quarterly and is up to date September 2021)
ATP
Short course summary
ATP
Short course summary
Kingsfield Academy
Competitive tendering (1 day)

An ECITB approved course for engineering construction project professionals responsible for winning contracts through improved strategy and positioning activities, and increasing bid-winning opportunities through enhanced proposal management.

Kingsfield Academy
Applied risk management (1 day)

Applied Risk Management introduces the principles of risk management and the effective implementation of these in engineering and construction projects. This is not a course about another risk tool or piece of software, rather more an inquiry into the deployed efficacy of such items.

Kingsfield Academy
Contracts for engineers (1 day)

A pragmatic view of pre and post contract essentials for engineers involved with engineering, procurement and construction projects of any size.

20/20
Project planning and practice (3 days)

This course is designed to provide a broad level of knowledge, giving existing or aspiring planning and scheduling professionals all the information, they need to have confidence in approaching the requirements of their role.
Longer ECITB courses and qualifications
| Type of course | Summary information |
| --- | --- |
| ECITB course (9 months) | ECITB Certificate in Project Controls is a comprehensive programme covering all aspects of project controls, estimating, planning, scheduling, risk etc. Learners are taught through a blend of classroom workshops (online or face to face), assessments and simulated project work over a period of 9 months. |
| ECITB qualification | ECITB Diploma in project control practice and techniques (RQF), level 3 (England), (equivalent to level 6 in Scotland, SCQF) |
| ECITB qualification | ECITB Diploma in advanced project control practice and techniques with pathways in estimating, planning and scheduling, cost engineering and integrated project controls practice, level 6 (England) (equivalent to level 10 in Scotland SCQF). |
| Apprenticeship standard | Project controls technician apprenticeship standard, level 3 (equivalent to level 6 in Scotland) |
| Apprenticeship standard | Project controls professional apprenticeship standard, level 6 (equivalent to level 10 in Scotland)  |
Once established in a role and playing a crucial part in ensuring the successful delivery of complex projects to time and on budget through estimating, defining and planning costs, schedules, resources and quality needed whilst taking technical, risk and commercial requirements into consideration and then monitoring the costs and progress throughout the delivery phase and making recommendations for improvements or recovery.  Then it is possible to build evidence of this work and the skills demonstrated – this is a good time to look to undertake the following qualifications:
Professional registration – an individual may wish to consider gaining professional recognitions through the ACostE and/or as an Engineering Technician.
Once skilled in project controls practice and techniques the next progression may be into management and there is training available in management practice and techniques. Those wishing to progress further in terms of being a specialist in estimating, planning/scheduling or cost engineering there may be Masters courses available.
There is also the option of becoming Chartered – a Chartered engineer (through ACostE) or, if you wish to move in to project management there are options for project management training and chartership.