Project Collaboration Toolkit
The ECITB's Project Collaboration Toolkit (Edition 2) supports collaborative working relationships across the engineering construction sector. The toolkit offers advice and guidance to companies looking to work together more efficiently.  The toolkit shares industry best practice and guides clients and contractors on joint working. Originally designed for the offshore oil and gas sector, the toolkit has now been used on several projects where pooled resources and shared skills and expertise have improved efficiency and kept costs down.
The ECITB Project Collaboration Toolkit (PCT) 2nd Edition is intended as a practical guide for the project management community and is aimed at enhancing collaboration for improved project delivery performance across all UK engineering construction and industry sector communities.
The PCT is directed at project managers and project management personnel within organisations that:-
Have a clear vision and understanding of the challenges that a collaborative project strategy will present.
Have full commitment to a collaborative strategy from their boards / leadership teams.
Are prepared to provide organisational development effort and commit to coaching support in order to deal with the stresses of change, conflict and other people issues that might arise.
Select the right combination of other organisations and people that can work together in a collaborative and complimentary manner to achieve specific project delivery objectives
The Toolkit is intended to serve as a 'go to' guide regarding some of the specific project activities that will support performance benefit through collaboration. The entire Toolkit can be used to support project collaboration from inception to completion but individual phase steps and activities can be applied by project managers to projects which have not been established on a collaborative strategy.
The ECITB Project Collaboration Toolkit principally provides guidance on "what" should be done to achieve or improve collaboration to the benefit of projects. It assumes that some of the fundamental requirements of organisational leadership and support for a collaborative project strategy are in place and that continuous organisational development and support for the people involved will be provided throughout. Although the Toolkit inevitably provides some description of "how" certain activities should be approached, it should not be viewed as additional project management process.
Not all projects will lend themselves to a collaborative approach but the Toolkit assumes that a principal decision has been reached within the Project Lead Entity organisation to adopt a collaborative strategy.
There has been ongoing discussion and debate in UK industry for some time around the most effective contracting relationships.
The Project Management community recognises this and there is a thirst for greater collaborative working throughout the industry.
The decision on the level of collaboration to be embraced for a particular contract should in some sense be related to the risk profile of the work, and the way that the customer chooses to execute it. Frame services contracts are by their nature quite collaborative as they relate to supporting the ongoing production and integrity for the assets involved. The individual work packages could be quite "commodity" based and simply executed swiftly and efficiently, subject to a sensible agreed scope. Larger project scopes promote the need for greater collaboration, as they are usually more strategic, with wider benefits being realised by the Operator and Contractor working together, with clearly defined roles. Risk therefore plays a part in determining the extent of collaboration.
There is perhaps a rightful fear in the Operator community that "collaboration" is some kind of code for Service providers having and easy contract with higher margin. This is not the intent.
A collaborative environment should be about the best people delivering the right work in an open and communicative environment, where risk and reward is shared appropriately. It is as much about attitudes and behaviours with all personnel having the aligned view of what project success means. A collaborative project contract will have personnel working together to solve issues and to reduce cost, seeking to deliver the end outcome in the minimum time possible.
Having been launched in late 2016, the ECITB Project Collaboration Toolkit has been piloted against a number of real projects. Being projects of different scope, size and complexity, the pilot projects have delivered a range of different experiences and benefits through their adoption of a collaborative delivery strategy. The outcomes and experiences of these projects have been captured in the case studies on this page.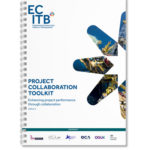 Click to read.
The entire toolkit can be used to support project collaboration from inception to completion but individual phase steps and activities can be applied by project managers to projects which have not been established on a collaborative strategy
WATCH: The toolkit explained
William Lindsay of Shell UK explains why project collaboration is necessary in the oil and gas industry.
William Lindsay of Shell UK sets out the background that prompted greater collaboration in the oil and gas industry.
William Lindsay of Shell UK describes how the ECITB's  project collaboration toolkit came about.
Nicky Mason of Worley talks about the critical stakeholder relationship required to make collaboration work.
Nicky Mason of Worley explains how the toolkit is designed to aid effective collaboration.
Project Collaboration Toolkit in action
The Project Collaboration Toolkit was created to help the UK's oil and gas industry improve its efficiency in a competitive global market by sharing skills and expertise to keep costs down. The following case studies demonstrate how the toolkit is working in practice.
Project Collaboration Toolkit – Review Checklists
Monitor the progress of your project using the interactive Project Collaboration Toolkit review checklists for Phases 1, 2 & 3.
Watch our WebinEYE Presentations
The ECITB's WebinEYE are a series of presentations about project management in the oil and gas industry delivered by industry professionals.
The introductory video below sets out the project lifecycle and each webinar examines common industry issues, promotes knowledge sharing and demonstrates good practice.
The Offshore Project Management Steering Group (OPMSG)
The Offshore Project Management activities of the ECITB are led and supported by the Offshore Project Management Steering Group (OPMSG), a voluntary team which was formed at the request of Industry in 2014. The OPMSG works to encourage cooperation between businesses the oil and gas sector, creating the Project Collaboration Toolkit and organising conferences for industry to improve collaborative working.