A new wave of Engineering Construction Industry scholarships to equip the next generation of engineers with the skills for net zero and beyond has been launched by the ECITB.
The ECITB Scholarship aims to provide a sustainable pipeline of new talent for industry by providing a grounding in the industrial knowledge and skills that are in demand in their region.  A further 112 scholarship places have been announced across the UK for September 2022, including 52 ECITB Energy Transfer Technician Scholars on pathways specifically focused on supporting the delivery of the energy transition.
The ECITB Scholarship has already prepared 260 scholars for careers in the engineering construction industry since its inception in 2020 to help employers withstand the economic impact of the Covid-19 crisis. The programme, which lasts 1 or 2 years, delivers training focused on regional skills shortages. Scholars who complete the programme possess the foundation skills to move into apprenticeships in industry.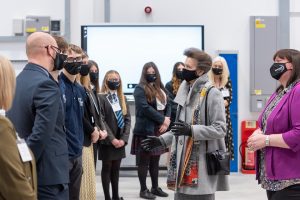 HRH The Princess Royal met with ECITB Scholars during a visit to East Coast College's Lowestoft campus in November 2021.
In recognition of the growing demand for workers with the skills for net zero, the ECITB scholarship in 2022 will include energy transfer technician and wind turbine technician pathways alongside other areas of focus including electrical and mechanical maintenance, industrial welding, fabrication and project controls. Learners will get a grounding in core engineering knowledge and skills as well as an understanding of the new technologies essential to the successful delivery of net zero, and a foundation in digital skills.
The programme supports industry in the short term by underwriting the risk to employers of taking on new entrants and financially support scholars through the initial stages of their training and in the long term by preparing the next generation for engineering careers. Learners receive £100 a week to pursue a one or two-year off the job programme in a craft or technical discipline while they undertake some components of an apprenticeship.  At the end of the scholarship, learners acquire industry standard qualifications as well as relevant site passports. For employers, this is an excellent opportunity to recruit a young person who has had the requisite training to be either fast-tracked into an apprenticeship or recruited as a direct site hire.
ECITB 2021 Scholars by location, discipline and provider
ECITB 2020 Scholars by location, discipline and provider
For more information, please contact your ECITB regional officer.