Blog by Engineering Construction Industry Training Board (ECITB) Chief Executive Andrew Hockey
As we look to support an industry in transition, I am mindful that the ECITB must be responsive and be one step ahead to ensure our services continue to meet the needs of our stakeholders.
In our Leading Industry Learning Strategy 2023-25, we highlight the key role the ECITB plays in preparing the engineering construction industry workforce for change. Delivering the energy transition and decarbonising the industrial clusters will increasingly become a core activity for our industry – so identifying skills gaps and addressing training needs is a priority.
Changes in the industrial landscape are throwing up challenges, and we stand ready to help employers equip existing workers with new skills, develop new engineers and retrain workers from other sectors to meet the increased demand in engineering construction.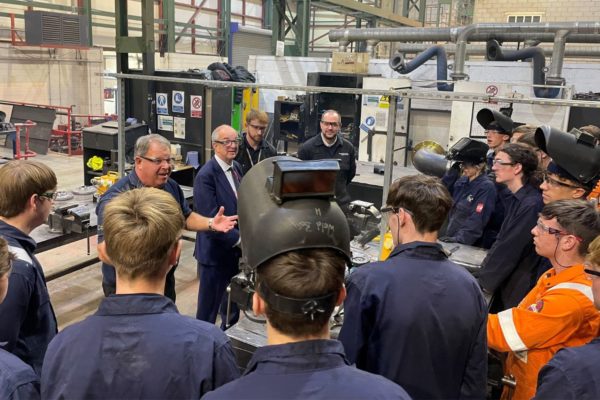 CEO Andrew Hockey (centre) talking with ECITB scholars at the Engineering College in Birkenhead on his visit to the north-west
The visits and meetings I've had in my first six months as chief executive, such as my tour of Scotland, have allowed me to see first-hand the impact of our work, with the insights I'm hearing highlighting the importance of understanding the challenges facing employers and training providers.
This was again in evidence as I headed west on my latest round of trips, taking in Wales and the north-west and south-west of England.
Engagement informing decision making
The importance of meeting stakeholders face to face on trips like these can't be overestimated in deepening our understanding of how skills needs and challenges differ between sectors, regions and size of employer.
Our employers want to hear how the ECITB can help put the skills in place an area needs, something which was evident in my discussions in the north-west about HyNet and industrial decarbonisation in general.
SMEs face different challenges to our larger employers, so it is about understanding their concerns around training and retaining staff in a local economy – something that was particularly highlighted to me during my tour of South Wales.
As stated in a media interview I did during that trip, labour shortages are a leading concern in Wales, and I held constructive meetings to discuss the skills challenges facing the region.
Andrew Hockey on a tour of INEOS Acetyls at Saltend, Humberside (left), with welding instructor Danny Williams at Pembrokeshire College (centre), and having a go at virtual welding at Neath Port Talbot College in Wales
Insight like this is vital in helping inform our decision making, as everything we do is targeted at delivering what industry has told us it needs – which is a focus on attracting and developing new talent and the provision of high-quality training across Great Britain.
Providing skills for the future
In a month where I've undertaken training of my own, as an accounting officer for the ECITB, it's been eye-opening to spend so much time with our different training providers, both on location and at our annual Approved Training Provider Forum in Edinburgh.
It's been great to see the real difference the ECITB is making on the ground right now. Meeting so many enthusiastic scholars and apprentices during my tours of different colleges has given me a great sense of hope for the future.
These visits to training providers are also about gaining valuable insights, such as a chat I had with Pembrokeshire College welding instructor Danny Williams that emphasised the benefits of having instruction from someone specifically with industry experience.
How we go about attracting the next generation to engineering construction is a point that I've been hearing a lot, so it was fascinating to visit the centres of excellence at Bridgwater & Taunton College and the National College for Nuclear at Cannington to see how they are helping provide skilled workers for one of the biggest construction projects in Europe at Hinkley Point.
Meeting the skills needs of a changing industrial landscape has been a recurring theme, and the ECITB is committed to deepening our strategic ties to anticipate and deliver skills specific to the needs and challenges of each region.
This was something also in evidence as I followed my trips west with a visit to Humberside, where I met employers, providers and asset owners to discuss the region's decarbonisation plans and the ambitious plans to grow skilled worker numbers in the area.
Being forward-thinking will always be paramount in the work of the ECITB and our stakeholders, but we must still take time to reflect, especially when it comes to celebrating achievements of the industry.
This is why I was hugely excited to attend my first Engineering Construction Industry Training and Development Awards as chief executive at the Cutty Sark in London. It was great to join so many different people from across the sector to celebrate the brightest and best of our industry.
I would like to again congratulate all the winners and finalists who are great examples of the success stories from across industry over the past year. The quality of nominations this year reflects the strength of talent in the industry and the breadth of attendees on the night shows that these awards are one of the biggest events in the engineering construction calendar.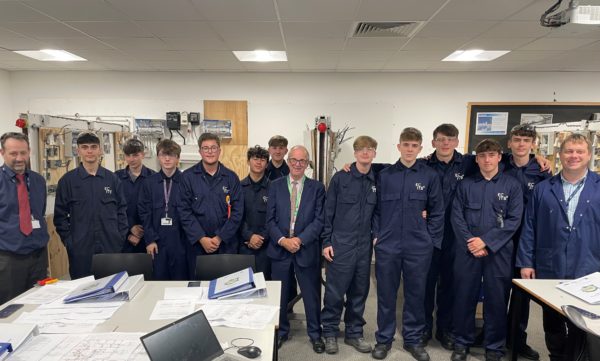 Andrew Hockey with the new cohort of ECITB scholars at Cheshire College – South & West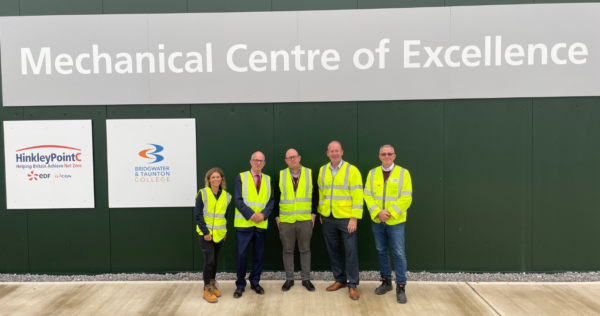 Andrew Hockey on a visit to the Mechanical Centre of Excellence at Bridgwater & Taunton College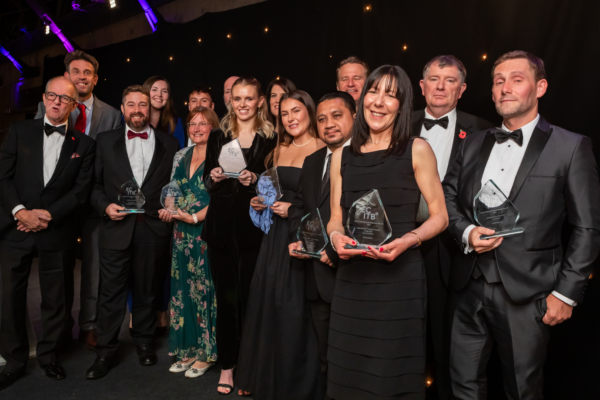 The ECI Awards 2023 winners on stage with Andrew Hockey (far left)