A college instructor loved the Engineering Construction Industry Training Board's (ECITB) new drone course so much he went out and bought his own – and took it to Iceland to fly it over a volcano!
Julian Hoile, who works for NPTC Group of Colleges in Wales, believes the use of drones on industrial sites is "a huge step forward in engineering skills" and is urging the industry to embrace "the future" by signing up to the Foundation Unmanned Aircraft Systems (UAS) training course.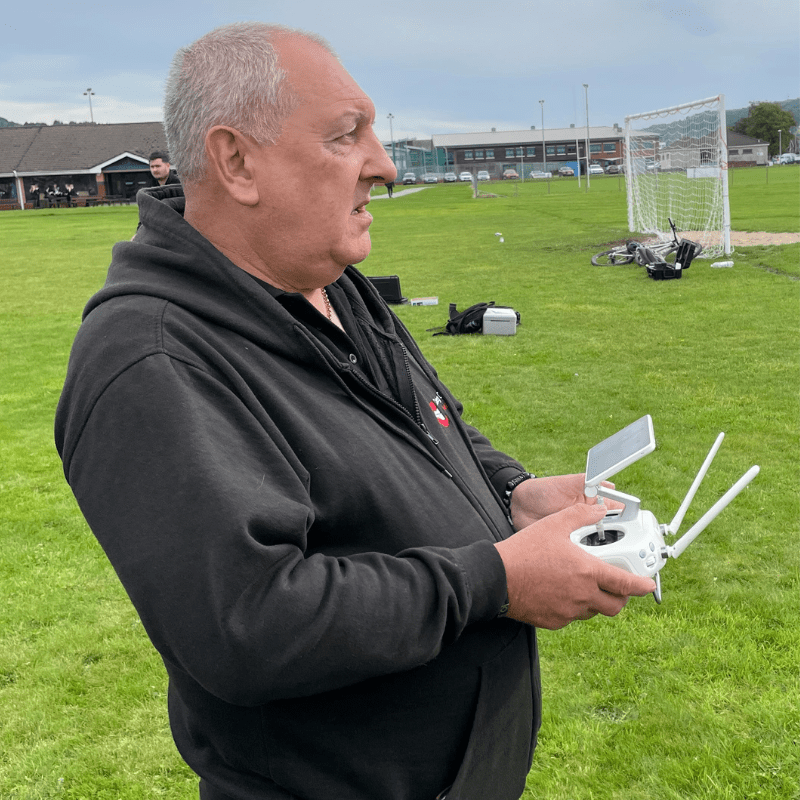 He was invited to attend the pilot programme of the ECITB's new course, which was created in close collaboration with the UK Drone Association, ARPAS-UK.
Following the success of the pilot programme, the ECITB launched the quality-assured training course for operating drones in industrial environments, with bookings now being taken by Approved Training Providers.
Global Drone Training delivered the week-long pilot programme at NPTC in south Wales, which was attended by staff from the college like Julian (pictured), as well as delegates from Sellafield and Network Rail.
The course, which involves a mixture of classroom work and practical flying, includes how to comply with site policies and procedures, and is assessed by a practical flight competence test, where operatives pilot a drone in a real environment and capture, store and share viable images.
Julian, who passed the course alongside college technician Levi Harris, says the course is ideal in taking people up to a consistent foundation level for flying drones on industrial sites.
"I'm really grateful I was chosen to be one of the guinea pigs to sit the course," said Julian, who instructs apprentices in mechanical engineering at the college.

"There was a lot of information, and it was intense at times, but the team at Global Drone Training were amazing and extremely knowledgeable. They made it an interesting, fun and enjoyable course and I absolutely loved it – to the point that I went out and bought my own drone!

"You learn about all the things you need to do or check, like pre-flight checking, the weather, the environment, where you can and can't fly, and different types of drones.

"For anyone daunted about doing it, I'm 60 years of age and the only drone flying I'd done before this was literally just around a field for 10 minutes, but this is something I was able to come to terms with as they don't rush you.

"I think everybody could do it, it's just about showing the right commitment and attitude."
Drone course 'can make a real difference in industry'
The interest in using drones across industry is growing rapidly due to their flexibility, the safety benefits, increased efficiency for workers, cost savings and a reduction in asset downtime for inspections. Yet, until now, no consistent training existed for operators to use drones within an industrial setting.
The ECITB developed the training to provide a consistent quality standard for all industrial drone operators, with the course providing an understanding of drone functionality and how to conduct operations on industrial sites, safely, effectively and efficiently.
"This is a whole new way of looking at fault finding within the industry," added Julian.
"Workers can be a lot safer as they are not exposing themselves to risk by going into dangerous areas."
Julian Hoile carrying out pre-flight checks with Global Drone Training Director Jonathan Carter
"I would definitely say it's a huge step forward in engineering skills. It's the future as it's so much safer, saves time and the footage you get back from the camera is incredible."
Julian was invited on the course as he'd shown an interest, having previously built an underwater tethered drone as part of some of his work helping the college's own drone academy.
NPTC Group of Colleges, which is one of the largest further education providers in Wales, was part of a working group to help get the ECITB foundation drone course off the ground.
Jayne Jones, Head of the Business Development Unit at the college, said: "The pilot course provided our learners with the skills needed to pilot drones in high-risk environments.
"This year has seen some significant growth for our Drone Academy. With the emerging and broad skills needs of industry – especially in relation to our Net Zero Academy – the College Group has been working with respected and trusted experts in the field of drone technology and skills to expand our offer.
"This, in conjunction with the team at the ECITB, has seen ground-breaking drone course development that we believe can make a real difference in industry, not only with the advancement of skills in piloting drones, but in making practices safer, economical and sustainable."
Julian Hoile flying a drone during the course