"I am convinced that without the investment and collaborative approach between NUVIA and the ECITB, the cultural shift and increased staff engagement would not have been as significant."
NUVIA, an international engineering company that specialises in services and products for nuclear environments, has seen a cultural shift in its organisation thanks to an innovative leadership programme, supported by the ECITB.
In 2021 NUVIA identified the need to invest in the leadership and management of its people to encourage progression and retention.
It recognised that effective leaders drive growth, inspire their teams and create a positive organisational culture – to the benefit of both employees and the company.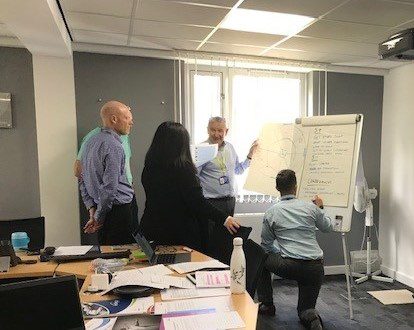 Bespoke Leadership Development Programme
The company approached the ECITB with its plans for a new bespoke Leadership Development Programme (LDP).
The ECITB encouraged, guided and supported NUVIA financially through its grants programme, from the initial concept of the programme, through several evolutions, to reach its current format.
NUVIA selected Warrington-based training provider Instep UK Ltd to develop the bespoke programme that would embrace new ways of working and further develop its leaders and people managers.
The first cohort of senior managers who embarked on their leadership journey were challenged to develop their skills, behaviours and attitudes towards leadership.
Tom Jones, CEO of NUVIA UK, said: "The pilot programme has been a great success, not only for the delegates who attended but also their colleagues. There is an enthusiasm to get involved with the changes that are taking place within the business, and to be a positive influence in those changes."
Andrew Hockey, CEO at the ECITB, said: "NUVIA recognised the importance of training and retaining its people and made leadership and management the focus of its professional development programme.

"Leadership and management are absolutely central both to employee and skills retention and to creating an empowered and motivated team that can deliver projects on time and to budget, which is vital to industry productivity."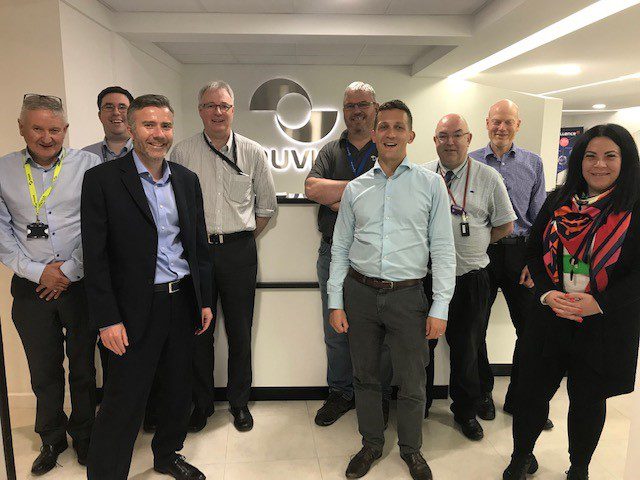 Quantifiable benefits of the leadership programme
The programme consists of eight modules plus additional sessions on Leading Commercially, Capture Planning and Mentoring. Nearly 100 leaders have taken part in the training and other companies are now looking at NUVIA's model for leadership and management training.
Tom explained: "As the positive impact of the programme spread throughout NUVIA, it touched external organisations within our industry, who were curious to find out more about the programme.

"We were happy to share our learning with others across the sector.  In conjunction with the ECITB we were able to advise what worked well and what we would do differently.
Once the Programme gained momentum and the benefits were beginning to be realised NUVIA introduced additional and complimentary modules.
NUVIA revised the LDP to ensure that it continued to meet its business needs and brought in the specialist skills of The Dialogue Space, Herne Group and Shipley to provide an advanced level of development to its Leadership Team.
Tom said: "We needed a joined-up and consistent approach to leadership at all levels in our business.

"The enhancement of the original LDP has been intensive and impactful and we are starting to see quantifiable benefits as a result of the programme."
Forging a cultural shift
NUVIA's 2023 Employee Engagement Survey showed significant improvement in engagement levels in all areas when compared with those recorded in 2022.  The greatest improvements were demonstrated in 'Leadership' and 'My Manager'.
Feedback from staff has been hugely positive.  Comments included: "I can see small changes (to the manager) which have had a positive effect on the team" and "The programme has offered opportunities to seek improvements in both leadership styles and effectively managing employees whilst also giving chances to reflect on what it means to be a leader."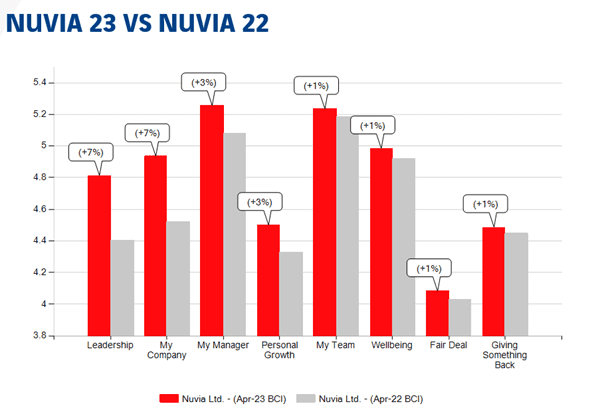 Chart showing engagement levels of staff in 2022 and 2023.
Tom added: "I am convinced that without the investment and collaborative approach between NUVIA and the ECITB, the cultural shift and increased staff engagement would not have been as significant.

"We hope that, with the continued support from the ECITB, the programme will continue to evolve, and we get closer to becoming an exemplar of leadership excellence."
About NUVIA
A subsidiary of VINCI Construction, and a division of the world-leading VINCI Group, NUVIA is an international company that operates worldwide on highly regulated and sensitive industrial sites.
It provides innovative solutions in engineering, services and products for nuclear environments.  And with over 60 years' experience in nuclear technology applied to nuclear power plants and nuclear research facilities, it serves clients on a far wider scale, designing solutions destined to Health Physics, Radiation protection, nuclear measurement, as well as key nuclear facilities.