A pilot employment programme, designed to tackle industry skills shortages and support individuals into employment in Pembrokeshire, has been hailed as a great success.
Work Ready is a collaborative and co-funded programme delivered by the Engineering Construction Industry Training Board (ECITB), local employers, the Department for Work and Pensions (DWP) and Pembrokeshire College.
It is designed to deliver semi-skilled workers to the engineering construction industry by providing 13 weeks of industry-relevant training and a further three weeks of work experience.
The first cohort on the Work Ready pilot programme started at Pembrokeshire College in February 2023 and followed a vocational qualification in fabrication and welding processes, maintenance techniques and hand-fitting skills.
90% of the learners have completed the programme and all of these have been offered employment.
The ECITB is keen to grow Work Ready and similar programmes across the UK to expand entry pathways into the industry.
Work Ready learner at Whitland Engineering
Andrew Hockey, ECITB's Chief Executive, said: "The Pembrokeshire Work Ready programme shows the benefits of adopting a collaborative approach. Employers, colleges, the DWP and the ECITB coming together and sharing resources has contributed to the impressive programme completion and employment rate.

"The ECITB aims to make Work Ready scalable and sustainable and to position it in key areas around the country including the Northwest and Southampton. It fits within our strategy to 'Lead Industry Learning' and expand new entrant pathways and demonstrates the innovative approaches the ECITB is taking to grow capacity within the engineering construction industry."
Lorraine Davies, Wales Senior Group Partnership Manager at DWP, said: "As part of our ambition to increase access to the skills and job opportunities emerging from the drive to reach Net Zero, DWP has formed a valued partnership with ECITB, Pembrokeshire College and employers in Southwest Wales to design and deliver this bespoke programme. It provided learners with the essential skills required by local employers to enter the engineering industry.

"The Work Ready programme has been an outstanding success. This collaborative approach and level of commitment from stakeholders and participants have seen 90% of learners receiving an offer of employment. DWP welcomes the opportunity to continue this collaboration and is exploring opportunities to build on the pilot."
Marc Scourfield, Operations Director at Jenkins & Davies Engineering, said: "I was really impressed by the dedication shown by the Work Ready learners. They embraced the opportunity from the Work Ready programme and have developed their experience and skills to become valuable members of the team.

"We have taken on Mikey from the programme and are very much looking forward to being involved again in the next cohort to encourage a new generation of engineers into the industry."
Louise Scourfield, Managing Director at Haven Engineering Ltd, said: "Haven Engineering recognises and fully appreciates the need for apprenticeships within the engineering and construction industry, especially within the trades of Welding, Pipe Fitting and Mechanical Fitters.

"We are fully supportive of the Work Ready programme, and the benefits it brings to this industry. It introduces students to the world of engineering and the many varied trade routes that are available to them through the ECITB, colleges, training organisations and employer collaboration."
Dr Barry Walters, Principal at Pembrokeshire College, said: "Pembrokeshire College is delighted to collaborate with ECITB and DWP to offer an innovative solution to equip adult learners seeking employment with essential Engineering industry skills.

"Our partnership connects with a range of key engineering companies, securing work placements for learners after 13 weeks of training at the College. The programme's success is exemplified by the high employment rates among participants.

"We eagerly anticipate a continued partnership for years to come with further programmes planned for next year."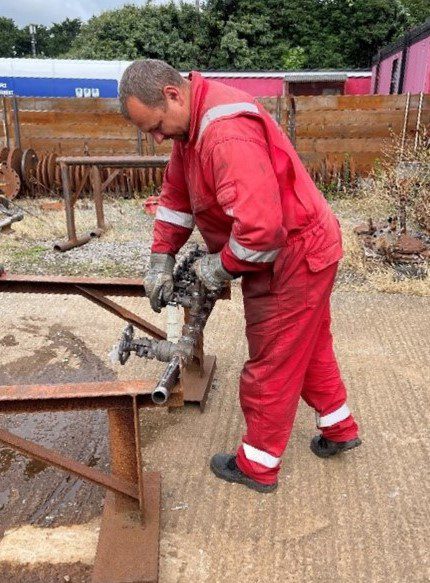 Mykhailo Omelchuk – Work Ready Learner with Jenkins & Davies Ltd
Duncan Parry – Work Ready Learner with Haven Engineering