More than 120 employers, training providers, government officials and other partners attended the annual ECITB National Forum today.
The industry-led sector skills body outlined how it plans to support growth in the Engineering Construction Industry (ECI) through workforce training and tackling labour shortages and skills gaps.
Lynda Armstrong, Chair of the ECITB opened the event. She reflected on the milestones over the last seven years while Chris Claydon has been at the helm of the skills body. She then went on to welcome Andy Brown as the ECITB's Interim CEO.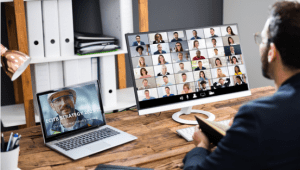 Andy gave a review of the organisation's performance in 2022 and emphasised the importance of partnerships and collaboration.
He said: "We exceeded our target for ECITB product use, our targets for working with providers to improve provision and as an industry we smashed our new entrant targets.  All of this was excellent but the main performance highlight for me in 2022 was our stakeholder engagement.

"Given the industry need for training and the people we have in our organisation who are aligned to that, it is little wonder we are able to stand proud about our achievements in 2022.

"A team effort all round but one that could not happen without the support, acceptance of what we are trying to do and willingness of all of our customers, employers and providers."
Deputy Director of Strategy and Policy, Jenny Young, and Interim Director of Operations, Matt Oates then shared the three pillars upon which the ECITB's business priorities are framed.  These are:
Foundations
Fund high-quality training, enabled by the levy, for a safe and competent workforce
Produce impactful labour market intelligence to enable data-driven decision making
Champion diversity and inclusion
Work in partnership with industry and government to influence change
Continuously improve
Growing a skilled workforce
Attract and develop the next generation
Expand entry pathways into industry
Deliver industry-leading standards, qualifications and competence assurance
Help employers retain and upskill a flexible and transferable workforce
Broaden access to training
Supporting industry in transition
Prepare the workforce for net zero
Identify emerging industry trends and longer-term skills needs
Bridge the digital skills gaps to drive innovation and productivity
Evolve the remit of the ECITB to respond to the changing industrial landscape
Export ECITB products and services to establish a global standard for safety and skills excellence
A dedicated focus was then given to how the ECITB plans to attract and develop the next generation of skilled people into the industry.
Adrian Wookey, Head of New Entrants, outlined the ECITB scholarship programme and how this has grown and evolved to meet the current and emerging needs of industry.
He said: "We are looking to expand the scholarships further and are pleased employers are engaging in these. Any developments will be aligned to industry needs with a clear focus on preparing the workforce for the future.

"Wherever we are running scholarships we will be setting up employer panels to drive the skills needed for industry.  They will help employers to mould and influence skills for industry as well as having the opportunity to identify talent."
The Q&A session provided a lively forum for attendees to delve deeper into areas of interest including the engagement of SMEs and pipelines for specific specialisms.
In his closing remarks Andy said:
"This year, like any year, will have its challenges for industry. Notwithstanding the promise of significant investment, there is, as ever, uncertainty about the future.

"Labour shortages seem to be real, despite the state of the economy. We have to continue to invest on industry's behalf, leveraging support where we can and trying to get in early to make the skills interventions timely and relevant."
The business plan, shared at the event, sets out the ECITB's priorities for the next three years.  It supports the delivery of the ECITB's 2023-25 strategy, Leading Industry Learning, which was launched in September 2022 after a comprehensive strategy development round with industry.
To read the ECITB's skills strategy, Leading Industry Learning, visit: www.ecitb.org.uk/strategy23-25