Crane operator Darelle says there's 'never a dull moment' in her new job after completing training in lifting operations with the help of the ECITB.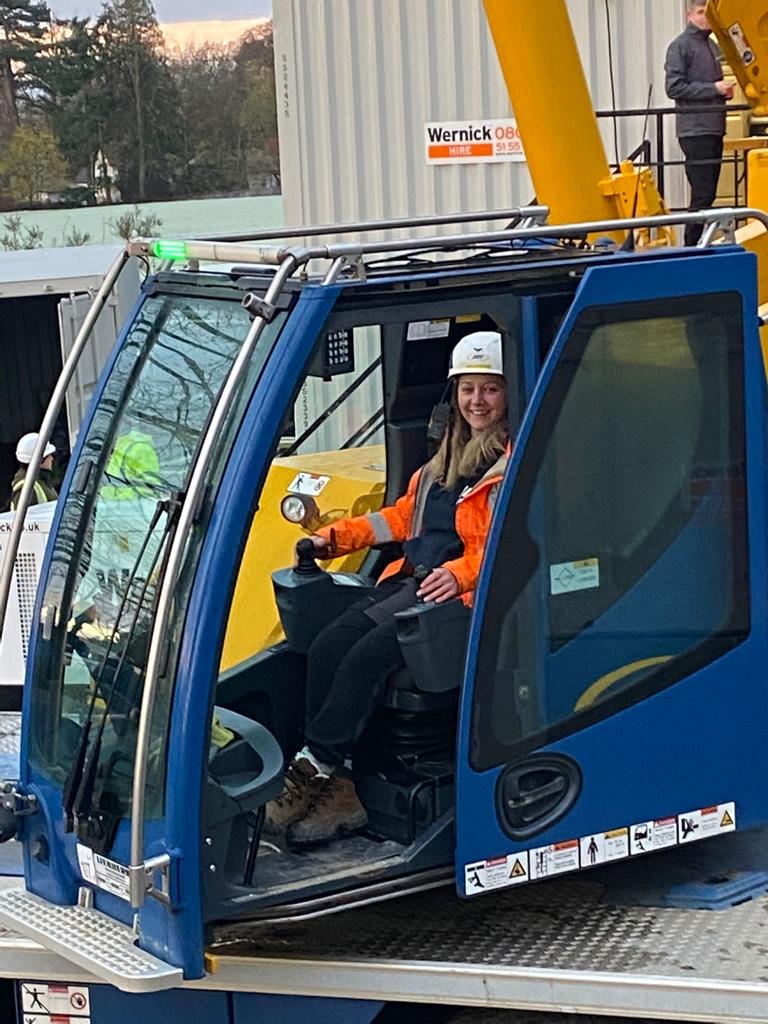 As a small girl, Darelle Taylor loved nothing more than spending evenings and weekends with her father at his car recovery business, surrounded by forklifts and trucks. From there, her passion for vehicles grew and she became a self-confessed 'petrol head'.
It comes as no surprise, therefore, that Darelle (31) is now training to be a Crane Operative at Johnston Rigging (Fife) Ltd.
"My sister and I spent our childhood going out with dad in the pick-up truck, recovering lots of different types of vehicles," she said.
"When I was five, I got my first moto-cross bike, which I started racing about nine years later. I was not that competitive and was quite happy to go at my own pace. When I turned 17, I got my driving licence and moto-cross was kicked to the kerb as I moved onto cars. I now have a Drift Car, which is a sport I compete in about once a month. I also got my HGV licence and used to drive dad's lorries at the weekend."
The plan was that Darelle would eventually step in and take over the family business but when Guy Johnston, an old friend and owner of Johnston Rigging (Fife) Ltd offered to let her try crane operation, she gave it a go.
Darelle loved it so much that she decided to take it up as a career, joining Guy and his team five months ago.
Because Johnston Rigging are an in-scope company of the ECITB, Darelle qualified for support with her subsequent training, which she undertook at Liebherr GB in Biggleswade, completing a Mobile Crane and Slinger Signaller.
Paul Hynd, ECITB Account Manager (Scotland), described Darelle's achievement as 'tremendous' and congratulated her on her success.
He said: "Darelle is a great example of the type of employee that the ECITB aims to help through its work with employers and training providers. Our aim is to help them attract, develop, and qualify the engineering construction workforce in a range of disciplines.
"She was able to complete her Mobile Crane Course under our Lifting Operations Grant Line, which helps the company to offset some of the cost of training with support from the ECITB. We are very impressed with Darelle's achievements in such a short time and wish her all success going forward."
Guy said: "Of late, this industry has been plagued with labour shortages, not only in lifting but also our structural steel erecting division. This has created an opportunity for people who would like a chance to learn a trade and the ECITB grant support system makes it that little bit easier for the employer.
"Based on Darelle's attitude and outlook, I was sure the investment in not only money, but time, wouldn't be wasted. I am a strong believer that the job must be right for the candidate as much as the candidate needs to be right for the job. I feel we have a great match with Darelle, and she has taken to her 40-tonne crane like a duck to water."
Darelle, whose work takes her all over Scotland, concluded: "I love being a crane operator and the team I work with is brilliant. Everyone is so supportive; we all have each other's backs. No two days, and no two jobs are ever the same. There is never a dull moment."