An ECITB programme that kept over 500 apprentices, trainees and graduates in workplace training during the pandemic has received a prestigious industry award.
The ECITB's Train to Retain (T2R) scheme won the Energy Industries Council (EIC) Award for Innovation at a recent ceremony in London. T2R – credited with saving employers output losses of £1.5m – helped avoid 98% of potential redundancies among new entrants in engineering construction according to evaluation by the Centre for Economics and Business Research (CEBR).
Launched by the Government skills body in May 2020 and running until the end of 2021, T2R directly spared 53 learners from redundancy and supported a total of 503 learners by supporting more than 35,000 days of training during the lockdown period and beyond.
The EIC award was sponsored by KBR and presented by the company's Director of Project Solutions, Dave Coles, to the ECITB's Director of Operations, Andy Brown.
Andy Brown (pictured at the EIC Awards Dinner 2022) said: "I'm very proud to have received the EIC Award for Innovation on behalf of the ECITB, which is a recognition of all the hard work put in across the organisation in response to the pandemic.
"The Train to Retain scheme has been a great success for our industry, helping secure the future of new entrants while delivering value for money."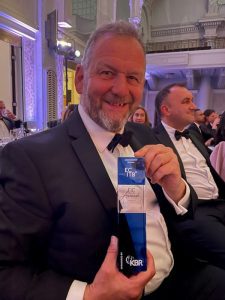 Chris Claydon, ECITB Chief Executive, said: "The learners supported by Train to Retain are the future of our industry, and it was crucial their skills and knowledge were retained and developed during the months of lockdown.
"This is a fantastic recognition for our investment in workplace skills and our endeavours to ensure the engineering construction industry remains competitive and our workforce is ready to deliver the raft of infrastructure projects for the energy transition and beyond."