Nine months on from the ECITB's Train to Retain scheme to stave off redundancies during the pandemic, the scheme continues to show its value to industry, from the strong balance sheet to the individual success stories it enabled.
Launched in May 2020 and running until the end of 2021, Train to Retain (T2R) supported training and development activities for 503 apprentices, trainees and graduates in engineering construction with the ECITB investing nearly £4.6m.
The purpose of the scheme was to support learners who were identified as being at risk of redundancy during the pandemic. ECITB funded learners' development activities according to agreed training and development plans set with their employer.
An independent review of Train to Retain, by the Centre for Economics and Business Research (CEBR), concluded that 53 learners were directly spared redundancy and 98% of potential further redundancies were avoided as a result of T2R funding.  CEBR also noted that without intervention from the ECITB, the industry would have faced output losses of £4.5m on graduates, £1.5m on apprentices and 467k on trainees, suggesting a return of more that £1.5m on the Train to Retain investment.
As the team from the ECITB continues to monitor participants' progress, they are hearing first-hand about the payoffs from retaining this cohort of talent in industry.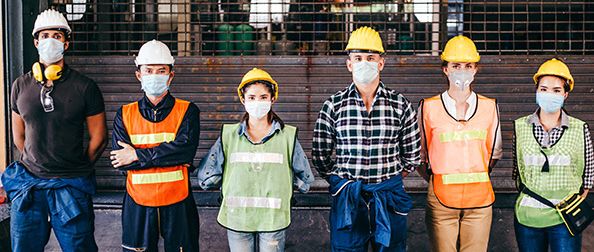 Train to Retain helped keep apprentices, trainees and graduates in workplace learning during the pandemic, saving industry an estimated £1.5m in lost output.
Take Oscar Hall of Specialised Management Services (SMS) Ltd, for example. When Oscar joined the hydraulic and electrical engineering firm based in Great Yarmouth as a 17-year-old Trainee Mechanical Technician in 2019, he saw his future solidly in the workshop. But changes in the workplace during Covid presented Oscar with the opportunity to try his hand at different roles within the business.
"Train to Retain allowed me to go through all different parts of the business from seeing how proposals are put together and how contracts are won, to planning and managing projects," said Oscar.
"In the project management team I was able to bring my practical knowledge of the product and I realised that I enjoyed working in the office environment."
Six months on from the close of Train to Retain support, Oscar – now 21 – hasn't looked back, taking his practical knowledge from the workshop upstairs.
"I'm currently leading a small project and looking to develop my project management skills," he said.
"I thought I might work in an office role at some point in the future, but the opportunities presented by Train to Retain mean that I've really been able to accelerate my career."
Anthony Whales, Head of Projects at SMS Ltd, said Train to Retain enabled the company to develop existing members of staff during a period of great uncertainty.
"During Covid a lot of businesses were apprehensive to start projects and, like so many other companies, parts of the business hit a lull. Without the Train to Retain scheme many businesses would have potentially stood down or lost valuable members of staff, but instead the scheme gave people the chance to experience different job roles and expand their skillsets, making them more effective and potentially opening up opportunities they may not have previously had.
"Train to Retain has shown SMS the value of giving our new starters valuable exposure to different working environments and helped mitigate the risks to the business during an unprecedented period of time," added Anthony.
A survey of firms that participated in the T2R scheme found a 95% satisfaction rating for the programme, with the majority of learners saying T2R has augmented their current and future career prospects. Among the different aspects of the scheme, employers were most satisfied with the funding made available by the ECITB, as well as the guidance they received.
Wood Group UK, headquartered in Aberdeen and a large recruiter of apprentices, trainees and graduates, praised T2R for supporting "a variety of development activities across a large number of learners". At the other end of the British Isles, Epsom-based Kent Energies UK Ltd, an integrated energy services company employing 60 graduates and taking on up to 20 new starters each year, said T2R "made a significant contribution to retention" and "protected the business from what would have otherwise been a sharp fall in revenue and productivity".
Chris Claydon, ECITB Chief Executive, said: "I'm delighted to hear individual accounts and big picture analysis that all point to the success of the ECITB's Train to Retain scheme.
We launched the scheme at the height of the pandemic to help workers who were most at risk of redundancy due to the slow-down in industry activity, and the CEBR's independent evaluation highlights the significant impact the programme achieved.
"Retention remains a priority for our industry. Our new strategy focuses on supporting industry to recruit and retain the talent needed to deliver a growing portfolio of engineering construction projects, from net zero to domestic energy security.
"Individuals like Oscar, who the ECITB supported during the pandemic, are the future of our industry.  Retaining their skills and knowledge gives us a head start as we look to ensure the engineering construction industry remains competitive and has a workforce ready to deliver the next round of critical infrastructure projects."