HRH The Princess Royal met ECITB Scholars at a visit to East Coast College's Lowestoft campus and saw vital safety training in action.
On a tour of the Lowestoft College's Skills for Energy centre, HRH Princess Anne met with young people enrolled on the ECITB Scholarship, a vocational engineering course aimed at creating a pipeline of new entrants ready for energy sector careers. On the day the college, which delivers training for the engineering, maritime, energy and offshore sectors, also staged a Working at Height rescue delivered by Maersk Training.
The visit last month signalled the launch of the East Coast College's new Athena Programme, which encourages women into careers in the energy sector working with local high schools, further education and sixth form students and local industry mentors. Princess Anne spoke with two female apprentices preparing for renewable and energy careers about their offshore training and their experiences in the industry.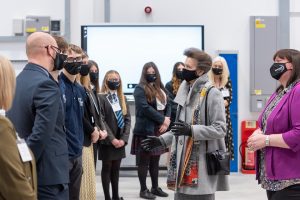 HRH Princess Anne meets ECITB Scholars at a visit to East Coast College's Lowestoft campus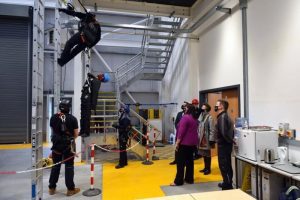 Maersk Training demonstrate a working at height rescue drill
Chris Claydon, ECITB Chief Executive, said: "This was a great day for East Coast College to showcase its state-of-the-art training facilities to such a distinguished guest and I'm delighted that HRH Princess Anne was able to meet the ECITB Scholars on programme.
"The ECITB Scholarship helps employers to underwrite the risk of taking on new entrants and provides a launch pad for many highly successful careers in engineering construction. Each programme is created to deliver training that is relevant to the skills needs of the area and provides a pipeline of new talent for industry to support the economy as it recovers."
Launched in 2020, the ECITB Scholarship scheme enables learners to pursue a full time 1 or 2-year off the job programme in a craft or technical discipline. Learners will acquire recognised engineering qualifications as well as relevant site passports. In 2022, training providers in England, Scotland and Wales will deliver the second cohort of ECITB Scholars in specific disciplines that correspond with anticipated regional skills shortages along with the introduction of new Wind Turbine Technician and Industrial Welder pathways.