The ECITB's Workforce Census provides a detailed snapshot of the engineering construction workforce and reveals the key challenges facing industry at this critical time.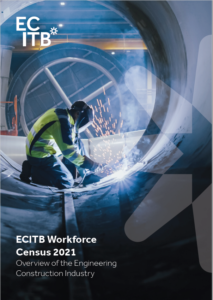 The report published today (15th September) suggests the size of the ECI workforce will recover to its pre-Covid level by 2023. However the scale of recovery may not be enough to prevent future labour shortages, given the industry's ageing workforce and recruitment difficulties facing many employers. This is concerning given the workforce expansion required to deliver net zero by the Government's 2050 deadline (2045 in Scotland).
Conducted at the start of summer 2021, the Census asked engineering construction industry (ECI) employers to provide information about their workforce numbers, locations and roles. Data collected included demographic information and respondents were also asked for views on workforce growth, Net Zero, Covid-19 and Brexit.
ECITB Workforce Census – key findings:
In 2021, the ECI workforce decreased by 15% compared to 2019. This is likely due to a range of factors including the Covid-19 pandemic, last year's oil price drop and Brexit.
By 2023, workforce headcount is expected to bounce back by up to 102% (a 21% increase compared to 2021, 2.4% compared to 2019).
Over a third (38%) of the workforce is over 50 years old and only 14% under the age of 29.
Over half (53%) of respondents answering questions on hiring reported that they faced recruitment difficulties with engineers working in craft occupations the most challenging vacancies to fill.
ECI workforce demographic data suggest a homogenous industry, with 96% of our sample identifying as white and 86% men.
Oil and gas (37%) and nuclear (35%) remain the largest ECI sectors in terms of workforce.
Teesside, Merseyside, the Humber, Edinburgh and the Central Belt, Aberdeen, and London are hotspots for technicians working in the engineering construction industry supply chain.
Covid-19 has impacted industry in a number of ways: 69% of employers have made use of furlough, 30% have experienced delays and downturns in work, 29% made redundancies and 26% have seen a decrease in turnover.
Chris Claydon, Chief Executive of the ECITB, said: "This contemporary workforce data is invaluable to the ECITB in understanding the skills needs of industry and how we can best represent the engineering construction industry accurately in our discussions with Government, both at a UK and devolved level. Thank you to all the employers who took part.
"The Census illustrates the profound impact of the Covid-19 pandemic on workforce numbers, but also suggests a full recovery, exceeding the pre-coronavirus headcount, by 2023. However, we know that labour market growth must increase greatly to meet the demands of the energy transition, and this recovery must continue to accelerate if we are to avoid skills shortages and gaps that could have knock-on effects for our net zero targets."
Fifty percent of the ECITB's in-scope employers responded to the Workforce Census, representing 45,351 workers and 1,360 locations.