New research published by the ECITB calls for Government, employers and the media to change how we deliver and report on apprenticeships.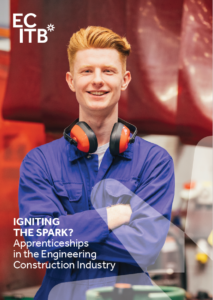 The report is based on surveys and interviews with fifty eight employers in the Engineering Construction Industry (ECI) – the sector that designs and delivers our critical national infrastructure – about their experiences following the introduction of reforms, including the apprenticeship levy, in 2017.
It offers an insight into the industry's perception of apprenticeships in England, Scotland and Wales following these changes, as well as indications that could inform how apprenticeship recruitment might change following the Covid-19 crisis.
The research found mixed views towards the apprenticeship levy, with marginally more employers positive (32%) about the levy than negative (19%).  However, only 16% of those surveyed in England said the apprenticeship levy had increased the number of apprentices in their business. Employers also identified a number of challenges facing apprenticeship recruitment, with a lack of suitable work and no current need for apprentices cited by 81%, and a preference to hire graduates or experienced staff over apprentices expressed by 18% of respondents.
Although the field work was carried out before coronavirus hit, the impact of the pandemic is likely to exaggerate the issues identified in the report. With apprenticeship starts falling and not expected to recover for some time, every effort must be made to address employer concerns to avoid lasting damage to apprenticeship recruitment.
Other key findings from the report include:
In England, over 45% of employers had a positive perception of the Apprenticeship Levy, compared to 28% in Scotland. In Wales, 57% of employers said they are neither positive nor negative about it.
SMEs surveyed had a more positive perception (45%) of the Apprenticeship Levy than large companies (29%).
None of the surveyed employers thought that Brexit would have a positive effect on the recruitment of apprentices, with more than half (52%) not anticipating any effect and just over 21% anticipating a negative impact, either through limiting recruitment, limiting the training budget, or making recruitment of apprentices more difficult.
Many of those interviewed saw apprenticeships as a way of 'giving back' and providing an alternative to those who were not suited to or interested in further academic study, favouring a more technical approach with real work experience.
Barriers to taking on apprentices cited by employers included lack of flexibility in off-the-job requirements (19%) and distance from training providers (29%).
In light of the insights provided by employers, the ECITB has made a number of recommendations to help improve apprenticeship recruitment and address skills shortages across the engineering construction workforce.
Key recommendations to improve apprenticeships:
Apprenticeships need better representation by Government, employers and in the mainstream media. Apprenticeships should be included as a destination at both 16 and 18 in school leaving measures and performance tables to bring them on par with further academic study and in media commentary as a destination at relevant school leaving ages.
Apprenticeships need to be more clearly defined because the current IfATE definition lacks detail and makes it difficult to distinguish between new entrants and apprenticeships used for upskilling and reskilling existing staff.
Apprenticeship delivery needs to be decentralised and led through collaborative, regional partnerships which include employers so the pipeline of new recruits aligns to local industrial strategies and skills shortages.
Apprenticeship recruitment needs to be more inclusive to improve the diversity of the ECI workforce. Employers should actively reach out and appeal to a wider community rather than relying on traditional recruitment processes.
In England, more flexibility is needed around the requirement for 20% of training to take place off-the-job; more support is needed to allow courses to run with lower numbers of apprentices and to pay for apprentices to travel to and from both the employer and the training provider; and more alignment is needed with the upcoming T Levels to allow T level students to transfer into relevant level 3 apprenticeships.
Chris Claydon, Chief Executive of the ECITB said:  "Apprenticeship numbers will fall markedly this year due both to the Covid-19 crisis and the dramatic fall in oil price;  however, it is crucial that we maintain a pipeline of skilled recruits into the engineering construction industry to deliver energy transition. Although it may seem a long way off, when the recovery comes, employers will need fresh talent and apprenticeships remain one of the most valued routes into our industry.
The ECITB is fully committed to supporting apprenticeships and we have announced various initiatives to stem the decline in starts this year and support learners currently on programme. However, our research shows that industry's take on the apprenticeship system prior to the crisis was a mixed scorecard.
Now is the time to change this and address the problems identified in this report. Unless we do, there is a real risk that, as a nation and an industry, we will not realise the full benefits apprenticeships have to offer – from tackling skills shortages, boosting social mobility and creating a skilled engineering workforce to deliver net zero."
The ECITB has recently announced a package of measures to help industry in light of the Covid-19 crisis, including a new £5m scholarship scheme aimed at plugging the shortfall in craft and technical apprenticeships. In addition, the ECITB has committed to paying grants for current apprenticeships, even where training cannot take place to keep apprentices on programme.