Careers in Engineering Construction
Imagine a world where there was no heat to warm our homes, no clean water to drink and no petrol to fill our cars.  Sounds like something from science fiction.  But without Engineering Construction our world would look and feel very different.
Engineering construction is the industry that looks after the UK's critical infrastructure. Engineering construction companies design, construct and maintain the industry sites and process plants responsible for production of oil, gas, water and food, and power generation. The Engineering Construction Industry Training Board (ECITB) is an arms-length Government body that works to attract, recruit and train the skilled workforce required by the industry.
Over the coming years, the ECITB will play a vital role working with industry to make our energy greener, helping to transition to new technologies that will enable the UK to reach its net zero targets and tackle the challenge of climate change. Our research shows that engineering construction companies must recruit staff for an extra 33,000 jobs by 2026. So, whether you are a young person just embarking on a career from school or university, or already in employment in a engineering role, there are plenty of opportunities to build a successful and rewarding careers in engineering construction.
Download our guide to careers in engineering construction.
What is Engineering Construction?
Engineering construction makes up more than one-fifth of the total UK economy and supports the nation's critical infrastructure.  190,000 people work in engineering construction in the UK, contributing around £100 billion to the economy.  Workers design, test, install, maintain, repair, commission and decommission industrial facilities from wind farms to nuclear power stations to sports stadiums. Engineering construction will be at the heart of the revolution as we start to make serious progress towards the energy solutions needed to tackle climate change.
Opportunities in Engineering Construction
People working in engineering construction design, test, install, maintain, repair, commission and decommission industrial facilities. They work on superstructures ranging from wind farms to nuclear power stations and are crucial helping to tackle climate change by designing and installing new energy solutions. There are a wide range of careers available in engineering construction. From technical skills to a flair for design or leadership qualities there are roles to suit different interests, skills and aptitudes.  The best bit is we all come from different backgrounds and bring unique strengths and ideas so that they can be used to make a better future for all.
Apprenticeships in engineering offer an ideal path into a career in the engineering construction industry.  For employers, apprenticeships develop committed and talented employees who learn their skills on the job. For learners, apprenticeships in engineering provide an opportunity to earn while you learn.
And as you can imagine, we love a hard hat.  But we also love offices, laboratories, offshore vessels and working with cutting edge technology like drones and carbon capture technology.
Meet Mechanical Engineer Arturs Suna
Mechanical Engineer and Supervisor Arturs Suna talks about the part his ECITB Apprenticeship played in launching a successful career in engineering construction.
"The ECITB gave me the start up skills I needed to be successful and put me in the position I am today."
The engineering construction industry offers a full range of career routes that will suit a variety of interests, skills and aptitudes. There are industry entry points for people with traineeships, graduate and post graduate qualifications. As we move into a world of new technologies and continue our journey towards Net Zero it's crucial that we provide the right opportunities to attract and develop a world leading workforce.
The ECITB Scholarship
The ECITB Scholarship was created early in 2020 to help young people enter the industry while employers withstood the economic impact of the Covid-19 crisis. Each course focuses on identified skills shortages in the region and provides the Scholars with foundation skills for successful careers in industry.
Two years on from its launch, the ECITB Scholarship is going from strength-to-strength with 260 scholars preparing for careers in the engineering construction industry and a further 160 scholars set to start on programme in September. During their studies learners will acquire nationally recognised engineering qualifications as well receiving other skills training relevant to their chosen discipline.
Hear about the programme from Scholars at Richmond upon Thames College.
Useful links on engineering careers
A careers resource led by the engineering community for young people aged between 9 – 16, their teachers and parents.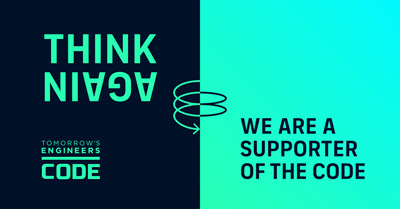 The Code is intended to help us make fundamental changes to ensure engineering careers are more accessible for this generation of young people. The Code asks signatories to commit to improving the quality, inclusivity, targeting and reach of activities designed to inspire young people and to build and share understanding of how to do so. Nearly 80 organisations have already signed up and pledged to improve the quality, inclusivity, targeting and reach of activities designed to inspire young people. The ECITB is a proud Supporter.
Visit the website to find out how you can become a Signatory or a Supporter of The Code.
This is Engineering is a campaign to bring engineering to life for young people, and give more people the opportunity to pursue a career that is rewarding, future-shaping, varied, well-paid and in-demand.
AFBE-UK promotes higher achievements in education and engineering particularly among people from black and minority ethnicity (BME) backgrounds.
Wise works to increase the participation, contribution and success of women in science, technology, engineering and mathematics (STEM).
The National College for Nuclear (NCfN) is a partnership between industry, national regulators, skills bodies and training providers to develop rounded and capable young professionals who have the skills and behaviours needed to deliver the UK's nuclear challenges.
The ECITB is partnering with the Careers and Enterprise Company to help schools and colleges shape futures
Volunteer as an Enterprise Adviser (EA) and partner with a secondary school or college to support them in the development and implementation of their careers strategy, ensuring all students are prepared and inspired for the fast-changing world of work. Working with the Careers Leader and wider senior leaders of the school or college, EAs help to build connections between employers and education to improve young people's career prospects.
Enterprise Advisers provide valuable employer perspective to the Careers Leaders, as well as supporting the integration of careers in the school or college's wider curriculum, putting opportunities with local employers at the heart of a young person's education. Supporting young people who want to understand and enter our sector is now more important than ever.
Be part of this positive change and help shape young people's futures.