Careers in engineering construction
Without engineering construction we would have no heat to warm our homes, clean water to drink or petrol to fill our cars. Careers in engineering construction involve the design, construction and maintenance of industry sites and process plants responsible for production of oil, gas, water and food, and power generation.
The ECITB is an arms-length Government body that works to attract, recruit and train the skilled workforce required by industry. Our research shows that engineering construction companies must recruit staff for an extra 33,000 jobs by 2026. So, whether you are a young person just embarking on a career from school or university, or already in employment in a engineering role, there are plenty of opportunities to build a successful and rewarding careers in engineering construction.

Find out more about careers in engineering construction
Useful links on engineering careers
A careers resource led by the engineering community for young people aged between 9 – 16, their teachers and parents.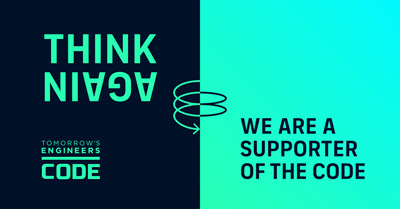 The Code is intended to help us make fundamental changes to ensure engineering careers are more accessible for this generation of young people. The Code asks signatories to commit to improving the quality, inclusivity, targeting and reach of activities designed to inspire young people and to build and share understanding of how to do so. Nearly 80 organisations have already signed up and pledged to improve the quality, inclusivity, targeting and reach of activities designed to inspire young people. The ECITB is a proud Supporter.
Visit the website to find out how you can become a Signatory or a Supporter of The Code.
This is Engineering is a campaign to bring engineering to life for young people, and give more people the opportunity to pursue a career that is rewarding, future-shaping, varied, well-paid and in-demand.
AFBE-UK promotes higher achievements in education and engineering particularly among people from black and minority ethnicity (BME) backgrounds.
Wise works to increase the participation, contribution and success of women in science, technology, engineering and mathematics (STEM).
The National College for Nuclear (NCfN) is a partnership between industry, national regulators, skills bodies and training providers to develop rounded and capable young professionals who have the skills and behaviours needed to deliver the UK's nuclear challenges.
The ECITB is partnering with the Careers and Enterprise Company to help schools and colleges shape futures
Volunteer as an Enterprise Adviser (EA) and partner with a secondary school or college to support them in the development and implementation of their careers strategy, ensuring all students are prepared and inspired for the fast-changing world of work. Working with the Careers Leader and wider senior leaders of the school or college, EAs help to build connections between employers and education to improve young people's career prospects.
Enterprise Advisers provide valuable employer perspective to the Careers Leaders, as well as supporting the integration of careers in the school or college's wider curriculum, putting opportunities with local employers at the heart of a young person's education. Supporting young people who want to understand and enter our sector is now more important than ever.
Be part of this positive change and help shape young people's futures.