Provider Account Manager 
Home based – Yorkshire, Humber, North West, North East
£42,090 incl Car Allowance + benefits
We are looking for a commercially aware quality assurance professional already with experience of the vocational training environment to provide a quality assurance and continual improvement service to our Approved Training Providers who deliver engineering training to apprentices.
You will be ensuring that providers maintain our training delivery standards, meet compliance criteria, and continually improve their offering to learners.  You have quality assurance audit experience within the vocational education field, an engineering vocational qualification at or above L3, and have an engineering or construction background.  You already have a good understanding of quality assurance and continuous improvement processes, along with observation and audit processes.  It is essential that you are able to work to deadlines, make sound evidence-based decisions, and have good interpersonal skills to build positive relationships with providers, and be capable of handling challenges and pressure which are part of this type of role.
This is a home-based role with travel to designated Training Providers located in your part of the country and some more extensive travel across the UK to meet business needs
Applicants must be eligible to live and work in the UK indefinitely.
Up to £58,000 + car allowance.
Home based
This is a rare opportunity to move your PM career up to a Programme Management level.  We are looking for an experienced project management professional to integrate all of our key strategic projects and ensure that they are developed and delivered cohesively for maximum benefit.
Reporting to the Director, Operations, you will be responsible for key projects reporting to you and for maintaining oversight of other strategic projects elsewhere in the business to ensure coordinated progression. You will also have responsibility for ensuring that ECITB delivers projects and programmes to a required standard, ensuring effective project governance, oversight and reporting is in place.   It is essential then that you have experience of managing a series of projects which align to a single programme of work towards business goals.   You will also have project management experience of non-technical projects with demonstrable ability to manage internal and external stakeholders.  An excellent communicator, you can effectively influence senior stakeholders and build productive relationships as well as have experience of managing a small, high performing team.
This a critical time for the Engineering Construction Industry (ECI). The industry is responsible for the design, installation, maintenance and decommissioning of the UK's energy and process plant infrastructure. It is therefore at the forefront of the Energy Transition, including the decarbonisation of other carbon-intensive sectors and the deployment of hydrogen, carbon capture and renewables.
As the statutory skills body for the ECI, the ECITB's mission is to deliver high-quality skills and training for the industry workforce.   Working collaboratively with key sections of the business, you will be actively making a difference – both in building the industry's talent base and enhancing the career prospects of learners of all ages, whose skills will be pivotal to delivering Net Zero.
Applicants must be eligible to work in the UK indefinitely in order to apply.
ECITB is committed to diversity and inclusion and welcomes applications from all sections of the community, particularly those that are underrepresented in the engineering construction industry.
ECITB requires all applicants to complete the application form as part of applying for a vacancy via our Applicant Tracking System.
Please note, you must be eligible to live and work in the UK indefinitely to apply for our vacancies
ECITB is committed to our People
We recognise that our people are absolutely our most valuable asset and vital to our ongoing success.   As an organisation dedicated to ensuring the provision of a highly skilled workforce, we are committed to investing in our colleagues to support and help them to develop and reach their full potentials and to do their jobs to the best possible standard.
The Dignity at Work Policy
The ECITB operates a Dignity at Work policy that states that ECITB expects a standard of conduct and behaviour that respects other people for what they bring to our organisation and for who they are as individuals.   It means that everyone is expected to behave in a professional manner, and is treated with dignity and respect. Our policy is for colleagues to expect this of both each other and also of all other external stakeholders with whom we interact in our roles at ECITB.
The ECITB regards all forms of bullying and harassment as unacceptable behaviour that will not be tolerated.
The ECITB does not expect any of its employees to tolerate offensive behaviour from people working in the Engineering Construction Industry or from others with whom they come into contact, and will respond to incidents.   Where such incidents occur, employees will report the matter to their manager who will take appropriate action.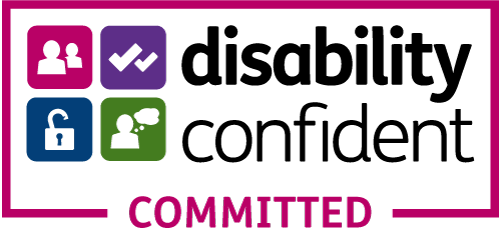 As a Disability Confident Committed Employer we have committed to:
ensure our recruitment process is inclusive and accessible
communicating and promoting vacancies
offering an interview to disabled people who meet the minimum criteria for the job
anticipating and providing reasonable adjustments as required
supporting any existing employee who acquires a disability or long term health condition, enabling them to stay in work
at least one activity that will make a difference for disabled people