Preferred location: southwest of M3, eg Winchester
£37,207pa + benefits (£7,237pa)
Closing date Midnight Thursday 30 Sept 2021
We are looking for an accomplished Account Manager with excellent communication skills and strong demonstrable evidence of developing value-adding business relationships to join us.
You will be part of our South England account management team promoting our training products and services, and providing support and guidance to our customer companies regarding training and competence.
You already possess demonstrable experience of engaging and inspiring senior stakeholders in major multinational organisations, and ideally have worked in a skills-related capacity in the engineering construction industry or similar.  You understand training and competence systems, and can deliver results to deadlines.   You are well versed in providing quality business-focused solutions for customers, promoting the STEM agenda and the benefits of the levy investment.    It is essential that your written and presentation skills are professional and polished.
Your main area of operations will be southwest of the M3, however you will be able to work flexibly and support clients on a wider regional basis.
Apply here:
Preferred location: Y&H region or Tees Valley area. Eg Middlesbrough or Hull
Up to £45,000pa + benefits (£7,965pa)
Closing date Midnight Thursday 30 Sept 2021
Are you ready for your next career step up?  If you're passionate about delighting our customers, have a proven track record of successfully engaging with stakeholders including customers, and can deliver against the strategy, this could be your next move.
You already have excellent communications skills, demonstrable evidence of developing strong value-adding business relationships, and can work collaboratively across the business.  You will understand our need to continually improve our employer engagement with clear plans tailored to each in-scope and potential in-scope employers.   Alongside personal account management of the region's key accounts, your remit will include line managing a small team of account managers, budget responsibility for the region, and managing/supporting small ad hoc projects.  Your ability to prioritise is therefore critical along with your ability to work to deadlines.  You will also play a pivotal role in supporting the development and maintenance of key stakeholder relationships that maintain our profile  within major infrastructure projects in your region.
Hemel Hempstead Herts (home and Head office based)
Up to £21,000pa
Closing date Midnight Thursday 30 Sept 2021
Do you have a good eye for detail, excellent work organisation skills and can meet deadlines?  We are looking for an Administrator with previous experience to handle our CCNSG (Client Contractor National Safety Group) Safety Passport programme and ACE  (Assuring Competence in Engineering) programme.
Our safety passport enable workers to access many engineering and construction sites so an accurate and reliable administration service is vital. You will be handling user enquiries, manage card issues, and liaising with our training providers who deliver the training that workers must attend in order to obtain a safety passport.  You need to be confident in using excel spreadsheets, and able to extract data from our online portal and database to deal with queries, ensure data accuracy, and provide reports.  Your communication skills need to be good to give clear information to customers, colleagues and others.
This is a full time role which can be done at home for the majority of the time, but you will be required to work in our Head Office in Hemel Hempstead at least one day a week.
ECITB is committed to diversity and inclusion and welcomes applications from all sections of the community, particularly those that are underrepresented in the engineering construction industry.
ECITB requires all applicants to complete the application form as part of applying for a vacancy via our Applicant Tracking System.
Please note, you must be eligible to live and work in the UK indefinitely to apply for our vacancies
ECITB is committed to our People
We recognise that our people are absolutely our most valuable asset and vital to our ongoing success.   As an organisation dedicated to ensuring the provision of a highly skilled workforce, we are committed to investing in our colleagues to support and help them to develop and reach their full potentials and to do their jobs to the best possible standard.
The Dignity at Work Policy
The ECITB operates a dignity at work policy that states that ECITB expects a standard of conduct and behaviour that respects other people for what they bring to our organisation and for who they are as individuals. It means that everyone is expected to behave in a professional manner, and is treated with dignity and respect. The ECITB regards all forms of bullying and harassment as unacceptable behaviour that will not be tolerated.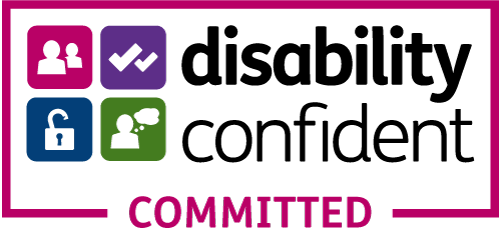 As a Disability Confident Committed Employer we have committed to:
ensure our recruitment process is inclusive and accessible
communicating and promoting vacancies
offering an interview to disabled people who meet the minimum criteria for the job
anticipating and providing reasonable adjustments as required
supporting any existing employee who acquires a disability or long term health condition, enabling them to stay in work
at least one activity that will make a difference for disabled people