The ECI Training and Development Awards 2023 crowned ten winners at a prestigious ceremony at the Cutty Sark in London as the engineering construction industry came together to celebrate success stories from the past year.
A press release about the event went out the day after, but in this article we profile the ten winners and what it meant to them to be recognised among their peers on the night.
Apprentice of the Year: Luke Turner (Cavendish Nuclear Ltd)
Luke trained as a Mechanical Designer, overcoming pandemic challenges to complete a four-year apprenticeship in just three years with distinctions.
He refined his leadership skills at the International Atomic Energy Agency's Nuclear Energy Management school in Poland and actively advocates for nuclear energy and apprenticeships, arranges CPD sessions and served as the Warrington STEM lead for Cavendish Nuclear Ltd.
He said: "It feels fantastic to win. I read the blurbs about the other candidates and any one of them could have won it. Where I'm working, there are multiple apprentices that are just as worthy, so I'm absolutely thrilled to have been recognised and I look forward to the future.
"Being recognised like this has definitely given me even more drive and motivation to do exactly what I've been doing and makes all the work I've put in over the last few years all worthwhile."
Graduate of the Year: Hannah Marchant (Cavendish Nuclear Ltd)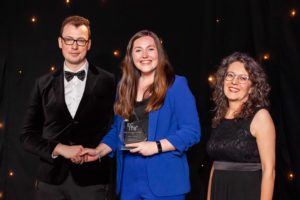 Hannah is a versatile Mechanical Engineer at Cavendish Nuclear Ltd who recently completed a graduate scheme and has excelled in various roles, including Site Engineer, Procurement Engineer and Technical Author.
Her work spans major overhaul projects, procurement of station spares and contributions to bids. In Oman, she coordinated complex tasks and enhanced safety practices, which resulted in her receiving praise from the Royal Navy. Her commitment to her own learning, which is seeing her pursue an Engineering Chartership, further highlights her exceptional qualities. Outside of her day job, Hannah also actively contributes to organisational change, health and wellbeing initiatives and STEM promotion activities.
She said: "I feel absolutely stunned, gobsmacked, overwhelmed and grateful to have won this award. I really feel like I've been so blessed with a lot of opportunities and being recognised like this is the icing on the cake.
"Working for Cavendish Nuclear is great. It's got a diverse pool of work and really interesting projects that we work on. Clearly they must be doing something right with their early careers community with two of us winning awards this year. It's something they're really proud of."
ED&I Initiative of the Year: WSP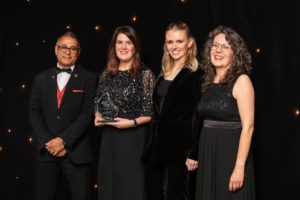 WSP's dedication to advancing diversity and inclusion is evident through its UK Inclusion and Diversity Strategy 2021-2024.
The company has hosted various events focusing on belonging, including the launch of a behavioural charter and personal presentations on unconscious bias and personal experiences. These initiatives have helped to foster an environment where employees feel proud, appreciated, engaged, secure and supported.
The organisation's employee engagement survey indicates the progress achieved, with positive results in areas like workplace environment, welcoming diverse opinions and the fair treatment of people of all backgrounds. The expansion of WSP's D&I efforts globally further showcases its commitment to inclusivity.
Faye Ward, Business Development Strategy Director at WSP, who has worked in the industry for 25 years, said: "Winning this award means a lot to us that we're seen as a diverse and inclusive organisation.
"We've worked hard to make our environments inclusive and we're proud of the initiatives we've started, including around accessibility, disability, racial inclusion and equality.
"We recognise that to meet the engineering challenges that lie ahead, like net zero, we need a diverse workforce, with diversity in thought."
Scholar of the Year: Jordan Palmer (Pembrokeshire College)
Jordan Palmer is an exceptional talent in welding and fabrication, demonstrating truly inspirational qualities. He achieved success in Pembrokeshire's regional welding competition and won a silver medal in the Inspiring Skills Wales Welding Competition finals.
Jordan's dedication to personal growth led to an apprenticeship at Rhyal Engineering. His passion for his craft and willingness to share knowledge make him an outstanding candidate, as demonstrated by his selection to represent Wales in the 2022/23 UK Skills final.
Arwyn Williams, Head of Faculty for Engineering and Computing at Pembrokeshire College, accepted on behalf of Jordan who was unable to attend the event.
He said: "Jordan is so dedicated to his studies. He's so keen and talented in engineering. He's a welder and fabricator and, to be honest, we struggle to get him out of the welding bays because he's so keen on cracking on and gaining his skills.
"We've been working closely with the ECITB and the scholarship programme is one example of where we've brought lots of young people in to supply skills and training to bring talented individuals into the sector."
Large Employer of the Year: Dounreay, a Division of Magnox
Dounreay's exceptional commitment to learning and development aligns with its people strategy. Its three strategic pillars encompass organisational capability, employee experience and prospects.
It offers apprenticeships, graduate programmes, summer student placements and work experience programmes, ensuring a robust talent pipeline. Dounreay also invests in mentoring programmes and fosters an inclusive workplace through initiatives like its Gender Balance Network and Rising Star programme.
Rhona Gill, Learning Development Specialist at Dounreay, said: "I've been working with the ECITB for many years and so I was delighted to be at the event, but to then win was overwhelming as we weren't expecting it. We're a very small learning and development team and we're always punching above our weight, so it's amazing to be recognised among our peers, we're so delighted.
"For us, it's all about the early careers; the graduates, apprentices, going in doing STEM with the schools, and things like that just makes us so proud to be part of our organisation at Dounreay."
Small/Medium Employer of the Year: STATS Group
STATS Group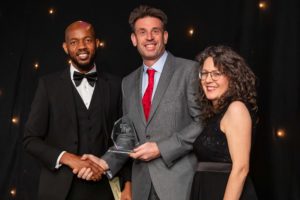 is committed to fostering competency and a culture of improvement across the organisation. Its mantra 'If you're not competent, don't do it', underlines its dedication to training, especially in niche areas.
The company has invested in on-the-job competency assessments and expanded training to include sustainability, diversity and mental health. The results include improved safety, operational efficiency, compliance and employee satisfaction, along with substantial revenue growth.
STATS actively collaborates with industry bodies and continuously invests in targeted training, reinforcing its commitment to staff development and industry excellence.
Andy Buckworth, Training and Competence Manager at STATS Group, said: "I'm ecstatic for the whole company. We put a platform in place and people have responded by committing to training and development.
"Everyone's bought into getting more higher level skills that are relevant to the on-the-job work that they were doing and we put a system in place to really enhance that.
"When it comes to training and development, we have a role and responsibility as an employer to put that on a plate for people to buy into and develop themselves, but they've got to want to do it. When you get that marriage together then something like this happens winning an award."
Approved Training Provider of the Year: Forth Valley College
Forth Valley College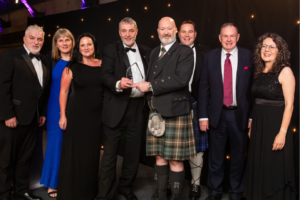 (FVC) has achieved outstanding success in its delivery of the Oil and Gas Technical Apprentice Programme (OGTAP) over the past 12 years. It boasts an exceptional 100% transition rate for participants in the ECITB Scholarship programme into employment.
Furthermore, FVC's flexible 'Train the Painter' initiative, developed in conjunction with esteemed industry partners, underscores the college's unwavering commitment to providing customised training solutions. FVC's dedication to nurturing a proficient, industry-prepared workforce through innovation and close collaboration with ECITB earned it recognition at the awards.
Principal and Chief Executive Kenny MacInnes said: "I am absolutely delighted and so proud to lead an organisation that has delivered such excellent training.
"I myself started as an apprentice, so to receive this award is full circle for me. To be principal of an organisation that's been recognised for delivering such excellent training is just overwhelming. We've had such a long relationship with the ECITB. It's fantastic to be recognised among our peers for delivering excellence working in close partnership for so long."
Leading Industry Safety Award: Petrofac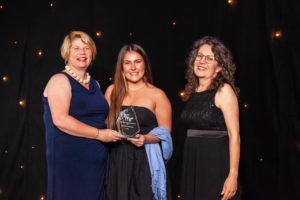 Petrofac's HSE Team stands out as a frontrunner in fostering safety excellence. Its holistic approach includes extensive training, mentorship and innovative methods. It has achieved a reduction in accidents and lost-time incidents, alongside an increase in proactive safety observations.
Consistently achieving 90% compliance in audits and updating over 420 health and safety procedures, underlines its commitment. Employee testimonials attest to its exceptional support and knowledge sharing.
Tabitha Hill, health and safety graduate at Petrofac, said: "There were so many talented people in the room and to be recognised alongside them felt great, it's well deserved for the amazing team that we've got.
"The team is really dedicated to make sure everyone is staying safe and doing things correctly, it's all about getting back to basics – if you can't do it right, don't do it. We strive to keep our training and competency at the right level."
International Training Provider of the Year: 3t EnerMech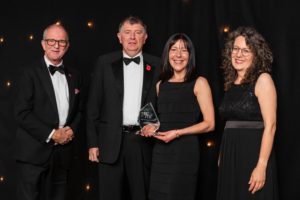 A joint venture between 3t (formerly 3t Energy Group) and EnerMech, 3t EnerMech delivers world-leading training and competency solutions. 3t EnerMech became the first Licenced Training Provider in Guyana early in 2022, delivering ECITB Global qualifications from its training centre of excellence set up in Georgetown.
It quickly established itself as a key player in the Guyanese Government's future ambitions for the country's development and upskilling of the local workforce in engineering construction.
Its entrepreneurial approach, willingness to push on, consistent delivery of high-quality training and healthy collaborative working with ECITB Global at each stage contributed to it becoming a regional winner in the awards for the second year in a row.
Paul Attrill, Vice President of Sales at 3T EnerMech, said: "It is a real privilege, and we would like to thank the judging panel for the recognition of our work delivering training excellence in South America and the rest of the world.
"3t EnerMech is committed to ensuring that the oil and gas regions of the globe can access the training needed to create a highly skilled, local, competent and safe workforce ready to progress projects as soon as they are needed. ECITB standards and procedures are world-class so to be recognised as the best of the best by this organisation is a great honour and one we intend to build upon."
Outstanding Contribution to Industry: Sandy Bonner (Bilfinger UK)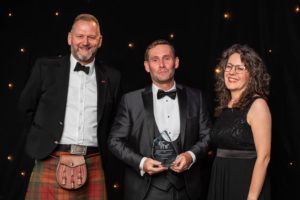 When handing the award to Bilfinger UK Executive President Sandy Bonner, ECITB Chief Operating Officer Andy Brown highlighted the work he has done advocating for the Connected Competence programme.
Andy also praised Sandy's forward-thinking leadership and how he is "a selfless leader who has a unique style that encircles everyone around him".
In accepting the award, Sandy said: "I'm taken aback, it's amazing to be standing here.
"But it's not about me, it's a team effort.
"I couldn't have done it without the support of the ECITB and I want to say a special thank you to the team with its work on Connected Competence."