The offshore wind industry gained four new recruits this week after they completed their training with East Coast College as part of a Military into Offshore Wind initiative.
The programme aims to attract those seeking a new career after serving in the armed forces into the engineering construction industry. It is a collaboration between the Engineering Construction Industry Training Board (ECITB), East Coast College and local employers.
Niall Clayton, George Reeve, Zak Trainor and Calum Lockley completed their course at the college's campus in Lowestoft and will now move into full time roles as Wind Turbine Technicians with Stowen and Certex.
Representatives from the ECITB, Stowen, Certex and East Coast College joined the new recruits on their penultimate day at the college.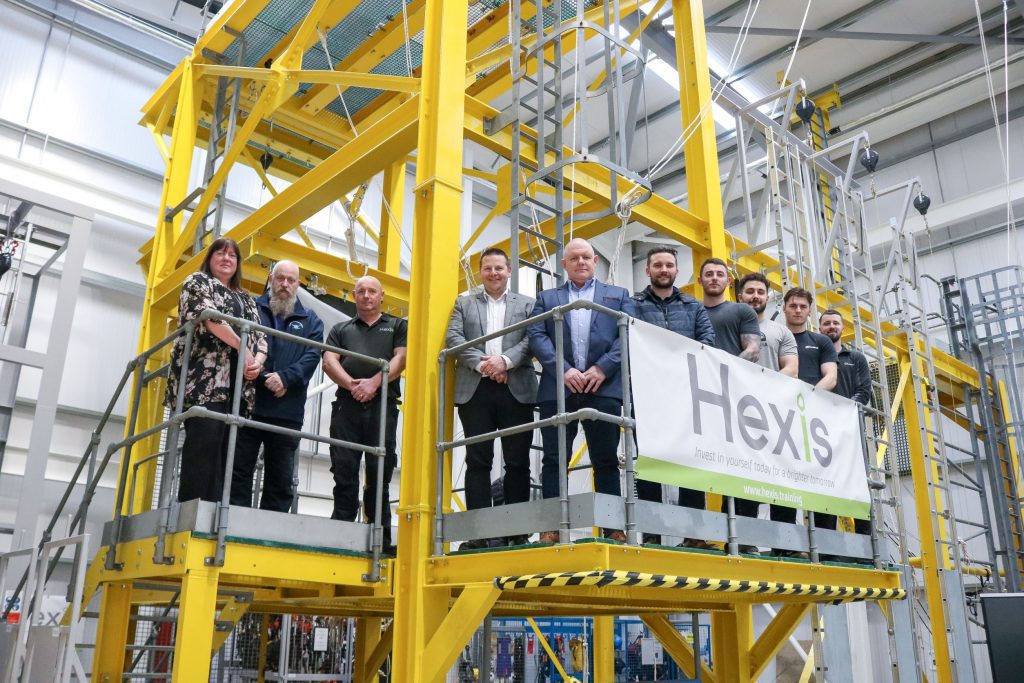 Photo L-R: Rachel Bunn, Dave Corneby, Jason Bull, Matt Knights, Terry Hoenes, Kieron Ford, Zak Trainor (Learner ex-RAF), George Reeve (Learner ex-Navy), Niall Clayton (Learner ex-Army) Calum Lockley (Learner ex-RAF).
Matt Knights, Interim Head of Regional Operations at the ECITB, was at the event. He explained the importance this programme has for the wind industry in the East of England:
"The ECITB has, in its current strategy 'Leading Industry Learning', pledged to expand entry pathways into the engineering and construction industry.

"The Military into Offshore Wind programme is a good example of such a pathway and is a collaborative model between local employers, East Coast College and the ECITB.

"This initiative complements the ambition of the offshore wind sector deal to facilitate the transfer of former military personnel with appropriate skills into the industry."
East Coast College's skills lead for East Wind, Rachel Bunn, said:
"This programme was designed to supported those seeking a new career in offshore wind and showcases how collaboration can drive success and new career opportunities. The calibre of delegates has been outstanding and, I have no doubt, they will excel in their chosen career."
George Reeve, a student on the programme who recently left the Navy, said:
"I was attracted by the offshore wind sector due to the unique working environment it can offer. No two days will be the same which is something I'm already used to.

"I see the industry as a route for me to progress in my career. This training programme is allowing me to take the first steps into the sector and into employment."
Kieron Ford, Business Growth Director at Stowen, said:
"A great effort from all companies involved providing employment and using transferable skills from ex forces to offshore wind. Following this successful transition, Stowen looks forward to providing career paths for further ex-military personnel."
Ian Shaw, Divisional Manager Engineering Services at Certex UK, said:
"With the accelerating worldwide demand for skilled labour it is essential that all service companies invest in new people, and in turn, the windfarm operators and owners support mentored new starters on their projects.

"It is one of the only ways we can all help protect the future sustainability of the supply chain. We are privileged to have been able to participate in this programme and look forward to further developing our relationship with the ECITB and ex-forces agencies who have provided us high calibre candidates ready to start their new careers with us."
Matt added: "The Military into Offshore Wind programme is just one of the many projects in which the ECITB is attracting new entrants into the Engineering Construction Industry to address the skills gaps and forecast labour shortages across the industry.
"Military personnel are ideal potential employees for the offshore energy industry as they have transferable skills and can bring a wealth of knowledge from management through to problem solving.

"We are looking to create new pathways into industry, supporting the transition of workers for net zero projects and actively promote the diversity of the workforce."
The collaborative project was co-funded by the ECITB and East Coast College through Growth Deal Funding. The programme syllabus included:
Introduction to the offshore wind sector
Health & behavioural safety in the sector
Global Wind Organisation (GWO) Basic Safety Training
Energy Institute Wind Turbine Safety Rules (WTSR)
GWO Slinger course
Employability support
ECITB Wind Turbine Compact and Davit Cranes Maintenance and Statutory Inspection
ECITB Wind Turbine Service Lift Maintenance and Statutory Inspection
ECITB Inspection of Working at Height Systems & Equipment
Ends
About East Coast College
East Coast College is a well-established further education college with campuses in Lowestoft and Great Yarmouth. With specialist maritime, energy and offshore training centres, combined with commercial training and a partnership with University of Suffolk, the college has become a centre of excellence for energy, engineering and offshore skills training. www.eastcoast.ac.uk
About Certex
Certex provides steel wire rope, lifting equipment and services to customers in the industrial, oil & gas, renewable and elevator markets. www.certex.co.uk
About Stowen
Stowen provides the Clean Energy, Oil and Gas, Marine and Nuclear support sectors with a wealth of technical services and one easy to manage solution.www.stowengroup.com
Photo L-R: Rachel Bunn (East Coast College), Dave Corneby (Coast Line Training Solutions), Jason Bull (Hexis Training), Matt Knights (ECITB), Terry Hoenes (Certex), Kieron Ford (Stowen), Zak Trainor (Learner ex-RAF), George Reeve (Learner ex-Navy), Niall Clayton (Learner ex-Army) Calum Lockley (Learner ex-RAF).