A project management team from Lorien Engineering has celebrated lifting the ECITB ACTIVE Cup after emerging victorious from a highly competitive field.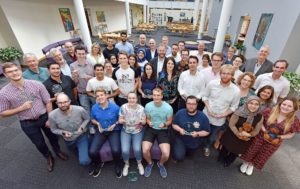 Lorien were one of six teams to take part in the high-pressure project management competition, where teams oversee a simulated construction project. This year's scenario saw teams of five – from Wood, KBR, Costain, Fluor and TechnipFMC  – deliver a high-tech environmental monitoring centre along an industrialised stretch of South American river to a fixed price, negotiating loans and working under intense time pressure.
Andy Brown, ECITB Director of Operations, said: "Project management competence is the absolute bedrock of effective delivery of projects in our industry. Being able to forecast completion dates and the cost of a project is what keeps a project on track or enables people to make contingencies. This programme delivers that in three days of high pressure, immersive training activity."
Organised by the Engineering Construction Industry Training Board (ECITB), the ACTIVE Cup is run in collaboration with and hosted by Cranfield School of Management. Now in its 26th year, the ACTIVE Cup is just part of the ECITB's wider project management training programmes aimed at raising skill levels within the engineering construction industry.
Dawn Thompson, ECITB Senior Account Manager, said: "Running a project is not for everybody, but everybody should understand how a project is run, and that is what the ACTIVE Cup teaches industry.
"Our companies tell us this is one of the best ways of developing their staff – some even have it written into their training plan for staff for their graduate employees. With so many glass trophies in board rooms around the country win, and some companies having won the ACTIVE Cup nine or ten times, there's always plenty of competition."
Phil Colquhoun, Head of Projects at Lorien Engineering, said: "For us this is an opportunity to expose a wide mix of engineers and project managers in a live, high pressure environment where they can role-play a whole project lifecycle.
"We get people in the company to work with each other where ordinarily they wouldn't, so our team this year have backgrounds from business development management to brewery process engineer so that's hoping that when we leave here they carry on that communication and benefit the business."