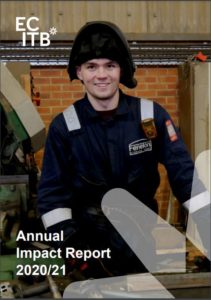 ECITB Annual Impact Report 2020
The first ECITB Impact Report, co-produced with Skyblue Research Ltd, examines evidence of the ECITB's achievements in 2020 and scrutinises the organisation's performance to understand the difference it makes to the industry, its workforce and wider stakeholders.
The report considers if the ECITB hits its targets, invests levy money successfully and succeeds in its ambition to support the engineering construction industry.  Evidence used for the assessment includes a survey of employers, training providers and other stakeholders to analyse feedback from different groups of service users, as well as evidence of the effectiveness of the ECITB's Covid-19 response programmes.